Choose to build the House of your DREAMS !!
With more than 18 years of experience in construction in the Dominican Republic, Maximo will guide you throughout your great project. Assisted by professionals and an efficient team who has learned to meet his requirements, he will put all his heart and passion at your service. With its innate gift for landscaping and exteriors layouts, you will have the pleasure of settling in a home finished in the smallest details (exceptional garden, stone walls, fences, gates etc ...).
With a total of 7 villas already built for private owners in the past years, there are still 12 lands for sale in our subdivision lot « Fleur d'Oasis »!
Ranging from 500 m2 to 2500 m2, all these lands are registered and enjoy a beautiful view of the ocean.
They trusted Maximo :
Last born of our lot : "Fleurs d'Oasis"
for the greatest happiness of our future expats !!
"Paradise exists ! To the point that we fell in love with it from our arrival and so that a little seed would begin to germinate in our head. It became obvious that Max would build our villa in the Residence, so we would never want to leave this place."
Since February 2015 - Chantal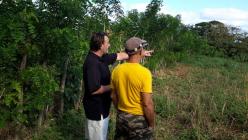 Do not hesitate when visiting the North Coast to come and check the Oasis and its different lands. Whether your real estate project is clear and well defined, or you are still at the stage of asking yourself where to buy in the Dominican Republic, Maximo and Antonieta will be happy to listen to your project, advise you and guide you the best way so that your experience is successful.
Need more information?
Residences l'Oasis
Cabrera, Maria Trinidad Sanchez
Dominican Republic
Phone n°:RD (001) 849 208 37 93
Whatsapp France : 07 81 77 45 03